Virginia Beach with Kids: 25 Things to do on a Family Vacation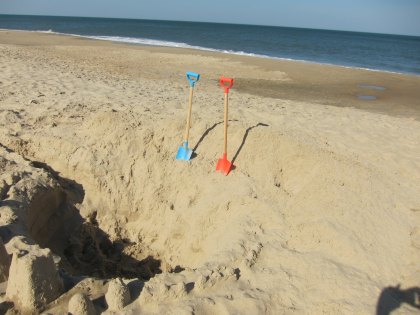 Virginia Beach's stretch of soft sand and Atlantic surf makes it a perennial favorite beach getaway for East coast families.  Its swath of unbroken coastline has been recognized as the longest pleasure beach in the world by Guinness World Records. This translates into always being able to find a spot for your towel and beach umbrella, even at the height of summer.  Lifeguards are on duty daily from mid-May through mid-September.  There is a decidedly G-rated atmosphere here, with a 'no cursing on the beach' rule (not enforced, but signed) that represents its family-friendly spirit.  Hotels that work for a range of budgets, no-frills eateries and free entertainment make it a top pick for families craving a beach vacation. Colonial Williamsburg is also nearby. 
Here's what to do, where to eat and stay in Virginia Beach for families.
1) The Beach
The sun, sand and surf are free in Virginia Beach, since no costly beach passes or tags are needed.  The southern section of the boardwalk tends to be more crowded, the northern end quieter, so take your pick.  It is all astonishingly clean and groomed daily.
2) The Boardwalk
The three-mile Oceanfront boardwalk has a separate bike path for families that want to get around on wheels or blades.  The path is flat and dotted with whimsical nautical-themed sculptures. On a practical note, there are plenty of clean restrooms the length of the boardwalk.
3) Rent a Bike
Cherie's rents reasonably priced bikes and canopied surreys at a half-dozen outposts sprinkled along the boardwalk.  The tranquil boardwalk bike path is the perfect place for beginner bikers to get the hang of things.
4) Grommet Island Park, 2nd Street and Boardwalk
There are several playgrounds located alongside the boardwalk, but Grommet Island is special.  It is 100% accessible, so all kids can play here.
5) Beach Street USA
Memorial Day through Labor Day, Beach Street USA presents live family-oriented entertainment along Atlantic Avenue between 17-25th Streets. Free.
6) Go Fishing
The Virginia Beach Pier, located on 15th Street, is open for fishing April-October.  They rent rods and sell bait.  No fishing license is required.
7) Virginia Aquarium & Marine Science Center, 717 General Booth Blvd
This top-notch aquarium focuses on Virginia's unique marine environment.   There are over 300 hands-on exhibits, touch tanks, plus an IMAX Theatre. We enjoyed the mock submarine and extensive nature trails.  If your child is at least 8 years old and 52 inches tall, Seal Splash is a pricy splurge that will get them inside a tank interacting with harbor seals. 
8) Farmer's Market, 3640 Dam Neck Road
Not your average market, this permanent, year-round market is an ode to Virginia agriculture.  Shopkeepers will entice you to buy with tasty samples of their farm fresh goods.  Local produce is great to snack on, and Gilly's Creamery is some of the best house-made ice cream we have ever eaten.
9) Mini Golf
My family considers mini golf an essential part of a beach vacation, despite the fact that we are not very good at it. Try Jungle Golf on 22nd and Pacific and King Neptune's 3-D on 25th and Pacific, which is indoors and air-conditioned, perfect for a rainy day.
10) Ride on a Pirate Ship
Capt. Jack's Pirate Ship Adventures offer a 90-minute cruise that lets the kids search for pirate treasure on the high sea.  They have a free shuttle bus that takes you to the launch site departing from 2nd St. and Atlantic Ave.  May-October.
11) Ocean Breeze Water Park, 849 General Booth Blvd.
With your choice of 16 water slides and a giant wave pool, this Caribbean-themed destination is the place to beat the heat if you want a change of pace from the ocean.
12) First Landing State Park 
This popular nature preserve is just outside of the main tourist area on the Chesapeake Bay.  Swimming, hiking, boating, picnicking and camping are possible here.  There is a lot of nature programming including twilight hikes.  Outdoor showers and clean restrooms are a helpful touch. 
13) Back Bay National Wildlife Refuge, 4005 Sandpiper Road
This 9,000- acre refuge is a wonderful place to observe wildlife. It is home to loggerhead sea turtles, piping plovers, peregrine falcons, and bald eagles.  In December 10,000 snow geese visit Back Bay Refuge during the peak of fall migration.
14) Military Aviation Museum, 1341 Princess Anne Road
Located in a hangar, this museum is home to a collection of perfectly preserved historic military aircrafts.  You can get here on a double-decker bus departing from the oceanfront area out to the hangar, about a 15-minute journey.
15) Cape Henry Lighthouse, 583 Atlantic Avenue
Climb the nearly 200 steps to the top of the historic tower and you will be rewarded with scenic views of the Chesapeake Bay and Atlantic Ocean.  Kids need to measure at least 42 inches to climb the steps.
16) Learn to Surf
Surf and Adventure offers surf camp, where instructors guide participants in how to read the ocean's tides and ride the waves.  Recommended for ages eight and up.
Where to Stay:
17) Holiday Inn and Suites North, 3900 Atlantic Ave.
This super-clean hotel has ocean view rooms with fridge and microwave.  The pool is spacious, but even more fun is the on-site water slide and lazy river ride.  They have supervised activities for kids throughout the summer.
18) The Belvedere Beach Resort, 3603 Atlantic Ave.
This friendly, family-owned hotel is also on the quiet north end of the boardwalk.  All rooms have balconies with ocean views, WiFi, and free adult bikes.  There is an outdoor pool.
Where to Eat:
19) Beach Bully, 601 19th Street
This casual and spacious restaurant serves large portions of North Carolina-style BBQ for low prices.  Tangy pork, beef and chicken are served with tasty sides like beans and hush puppies.  The kid's menu choices are all under $4.
20) Citrus, 2265 W. Great Neck Road
Open for breakfast and lunch, this is a good place to come and get some local color while you dine.  Locals keep coming back for delightful sweet potato biscuits, fluffy pancakes and fresh eggs.
21) Bubba's, 3323 Shore Drive
Located on a peaceful dock, you will see boaters and fishermen as you enjoy your meal on the patio.  Lots of seafood choices here, including crab cakes, oysters and steamed shrimp, plus an excellent burger.  The kid's menu is loaded with favorites.
When to Go:
22) Watch the Pros Surf
The East Coast Surfing Championships are held here annually in late August.  It is a key event on the professional circuit and very exciting to watch.
23) Sand Castle Competition
The Neptune Festival takes place during the last weekend of September.  It features the North American Sand Sculpting Championship, so prepare to be wowed with artistic wonders that use sand as their medium.
24) Winter Holidays in Virginia Beach
Virginia Beach goes all out for the Christmas holiday. Holiday Lights at the Beach lets you to drive your car down the boardwalk and see it decked out with lights, music, trees, elves and even Santa.
25) First Friday Art Walk 
From May through October, the first Friday of the month has dozens of local artists showing their work, plus lots of live entertainment from 5 to 8 p.m.  It takes place in the Town Center area.
Visit Virginia Beach is full of helpful information for planning your Virginia Beach vacation.