Five Things to do with Kids in Providence, Rhode Island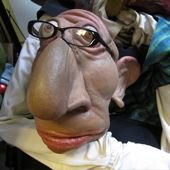 Are you looking for a last-minute labor day weekend getaway? Or maybe you are organized enough to already be planning a fall weekend trip. If Providence, Rhode Island, doesn't immediately come to mind as a family-friendly hotspot, maybe it should. This medium-sized town is hopping with fun, arty activities that even "been there, done that" New York kids and their parents will approve. 
Providence is a three-hour straight-shot up the I-95. If you prefer to leave the driving to someone else, Megabus is launching direct service from Manhattan to Providence, starting August 25. These double-decker, WiFi-equipped buses are an eco-friendly way to travel, and the views from the top-deck should please the kids. To launch the new service, there will be plenty of bargain-priced tickets for sale over the next few weeks. 
Here are 5 cool things to do with kids in Providence, Rhode Island's Creative Capital.
The Providence Children's Museum
The Providence Children's Museum, located at 100 South Street in the Jewelry District, will please even jaded mini-New Yorkers. Play is central to the museum's mission, and the newest exhibit, Play Power, is a vibrant, hands-on celebration of the importance of children's play. Savvy parents will applaud this, as much research is currently emphasizing the importance of child-driven, open-ended play in this age of the overscheduled child. The Children's Garden is a new outdoor exhibit, which offers year-round, imaginative play opportunities and features The Climber, a one-of-a-kind climbing structure designed by father-son artists and architects Tom and Spencer Luckey.
Older kids should head upstairs and visit Coming to Rhode Island, a thought-provoking exhibit where you can explore the cultural and ethnic diversity of the state's population. Dress-up in period costumes and re-enact the life stories of immigrants over the past 360 years.
Admission is free on Friday's after 5 p.m. from June to Labor Day, which gives you three hours till the 8 p.m. closing time, and a hefty savings over the regular $8.50 entrance fee.  After Labor Day admission is free on Friday 5 p.m. to 8 p.m. on the third Friday of each month.
Animal-lovers will go ape for the Roger Williams Park Zoo. This is a spacious place, and strollers are available for rent if you want to cover ground at a brisk pace. A baby giraffe, J.P., was born in July, so if you get here soon you can join the crowds who are going gaga over his cuteness factor. The zoo is home to over 100 species of animals from around the world. Among our favorite animals were the gibbons, moon bears and snow leopards. October is a big month for the zoo, with the Jack O'Lantern Spectacular running nightly from October 7-31. Thousands of intricately- carved, illuminated pumpkins will be on display for this popular annual event.
Roger Williams Park Zoo is open each day from 9 a.m.-4 p.m., closed on Thanksgiving, Christmas Eve and Day. Zoo admission is $12 for adults, $6 for kids 3-12, free for under-threes. The Zoo is not walking distance from downtown, but Rhode Island Public Transit Authority buses stop here.
If you have never seen the giant creations of Big Nazo, be prepared to be wowed. Visitors are always welcome at this studio space, the Nazo Lab, where giant foam puppets are created under the tutelage of Big Nazo's Willy Wonkaesque artistic genius and founder, Erminio. You can drop in and just look around, or start chatting with the loquacious creators to get the inside scoop on these fascinating creatures. This is a unique, non-commercial experience that is cost-free and not to be missed. These bizarre, larger-then-life characters stroll and perform regularly around town, as well as nationally and internationally, so check the website and try to see them in action.
The Nazo Lab is located at 60 Eddy Street, right in the Downtown Arts and Entertainment District and very near the Megabus stop. After you hang with the puppets, refresh yourselves at Tazza, 2 blocks away at 250 Westminster Street, a funky, inexpensive neighborhood coffee house that attracts local families and hipsters with its relaxed vibe and casual food. The spacious digs and staff are both stroller-friendly.
The arts are more than alive and well; they are thriving in Providence, which is home to one of the world's great art schools, Rhode Island School of Design. The RISD Museum of Art is child-appropriate, and is a must-see for parents. Don't let the school's reputation as a haven for the avant-garde lead you to think that its collection is purely contemporary. The Contemporary Collection is vast and complete, and includes significant works by Andy Warhol, Roy Lichtenstein and Wayne Thiebaud, painters whose works my kids enjoy viewing. But Ancient, Asian, and Impressionist art are all well represented here among the 80,000 works.
The last Saturday of the month is FREE-FOR-ALL SATURDAY, when admission is free and gallery exploration, hands-on art workshops, performances, and film screenings offer engaging ways for children to discover art and design. Admission is $10 for adults, $3 for kids 5-18, free for under-fives. The Museum is closed on Monday and for the entire month of August. It is located at 224 Benefit Street.
When hunger strikes, treat everyone to a fun lunch at Harry's Bar & Burger. Good food from local purveyors is the rule here, as are great sliders, fries and shakes and an awesome ice cream cookie delight for dessert, all fresh and homemade. It is very near RISD at 121 N. Main Street.
Providence's waterfront has been re-vitalized, and in the tradition of many European cities, the waterfront stroll is a favorite way for families to spend an evening. There is no better time to do this than when WaterFire is happening. It takes place periodically, from May-October, and is such a spectacular, multi-sensory experience that it is worth planning your visit to coincide with it. WaterFire is a work of art that involves movement, participation and surprise. This series of bonfires installed on the three rivers of downtown Providence entices with aromatic wood smoke, flickering firelight and music. The installation covers about a half mile of Downtown's Riverfront, and is hard to miss if you are staying downtown.
We stayed at the Hampton Inn & Suites Providence Downtown, which was convenient and comfortable. I appreciated the free breakfast buffet and pre-packed breakfast for the road, which we were encouraged to take even though we had eaten the buffet. These paper sacks were full of a healthy combo of fruit, muffins, water and raisins, which kept my kids busy snacking throughout the day and was a thoughtful money-saver.
For more great family trip ideas see our Family Travel posts.