Portsmouth, New Hampshire: 10 Things to Do With Kids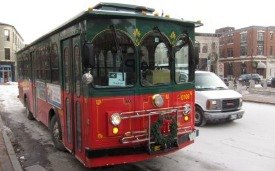 If you're looking for a family-friendly vacation destination that doesn't require getting frisked at the airport, consider Portsmouth, New Hampshire. This gem of a New England town puts its best foot forward during the summer, and its small size makes it manageable for families. 
It's easy to have fun in this picturesque portside town without feeling overwhelmed. The downtown area is booming, but despite some urban renewal, it maintains an authentic saltiness that's in tune with the area's maritime history and traditions.
The town is about a five-hour drive from New York City. However, you can also take Megabus, BoltBus or Amtrak to Boston's South Station, and then connect to a C&J bus for the one-hour ride to Portsmouth.
Portsmouth is one of my family's favorite places to visit, and I've compiled the top ten things to do here with kids.
The Trolley
Departs Market Square every half hour from 10:30am-5:30pm daily June 25-August 28
You can enjoy a car-free vacation in Portsmouth thanks to its wonderful trolley. While it's certainly a walking town, if you get tired or want to move a little faster, just hop on this old-fashioned vehicle that does a continuous Downtown Loop and only costs .50 cents.
Strawbery Banke Museum
14 Hancock Street between Washington and Marcy Streets
Wonderfully nostalgic, this interactive history museum comprises 40 buildings spread over 10 acres highlighting 400 years of local history. Residences and shops are authentically restored to give visitors a realistic depiction of everyday life over the centuries. The craft shop demos are particularly interesting. As you wander the grounds, you come across costumed reenactors from different eras that really enhance your experience. Bonus: The $40 family admission package (good for two adults and children under 17) is quite affordable, especially when compared to Colonial Williamsburg or Old Sturbridge Village. Plus,
Prescott Park
Marcy Street to the waterfront, State to Atkinson Streets
Portsmouth's outdoor showpiece is this lovely green space. It's particularly gorgeous in summer, when its rose garden is in fragrant, full bloom. The park also has a full calendar of family-friendly events, including theater and concerts, but you can visit anytime to stroll the waterfront.
The Music Hall
Historic Theater, 28 Chestnut Street
The Loft, 131 Congress Street
If you crave culture but hate big city ticket prices, visit this venerable arts haven, which boasts two venues: a historic theater on Chestnut Street and the more intimate Loft around the corner on Congress Street. Offerings include art-house films, concerts and plays, all at excellent prices.The KidsRULE! series will be of particular interest to families, so be sure to check the calendar to see what's going on.
Festivals
Portsmouth is always ready to party in a family-friendly way. Warm weather is celebrated with a series of festivals, many held in Prescott Park. Food, music and art celebrations are all great fun for kids, and there are big bashes scheduled most summer weekends. Kid faves include the annual Roots & Rhythm Festival on Sunday, August 14, and the Fish & Lobster Festival, locally known as the Fishtival, on Saturday, September 24.
Independent Shops
There are very few chain stores in Portsmouth, so you can browse an eclectic selection of wares. Explore the educational, open-ended playthings at G. Willikers! Toy Shop (13 Market Street) or hit the intimate RiverRun Bookstore (20 Congress Street), which has a section featuring New Hampshire authors and a wonderful children's area.
Coffee Culture
Caffeine addicts and their cookie-crazed offspring will be right at home in Portsmouth, which has a buzzing cafe scene. Breaking New Grounds (14 Market Square) and Me and Ollie's (10 Pleasant Street) are worth visiting, as long as you don't mind waiting in line a bit.
Cheap Eats
Many foodies believe Portsmouth has surpassed trendy Portland, Maine as New England's must-eat destination. Inexpensive, family-style eateries abound. Portsmouth's restaurants pride themselves on serving local, fresh and often organic foods. We had a terrific wheat-crusted pizza at Flatbread Company (138 Congress Street). We ate another memorable meal at the Friendly Toast (121 Congress Street), where tattooed servers dish out giant portions of classic diner fare and the aesthetic is American kitsch. Breakfast is served all day, and the children's menu is a winner: You can snag a half portion of anything on the magazine-sized menu for half price.
Seacoast Science Center
Odiorne Point State Park, Rye
You'll need a car to get to this attraction in Rye. Comprised of seven different coastal habitats, it's the place to visit with kids who are interested in science and nature. There are guided walks and interpretive programs on the region's natural history, and families will love looking at the 1,000-gallon, deep-water aquarium. We particularly enjoyed the interactive visitors' center. In summer, Seacoast hosts outdoor concerts on select summer evenings.
Children's Museum of New Hampshire
6 Washington Street, Dover
Located 12 miles from Portsmouth, this former mill has been transformed into a playground of fun and learning that rivals any children's museum that I've ever seen. Our favorite exhibit was Yellow Submarine.  Constructed with the help of the experts at the nearby naval shipyard, it actually does look like a submarine, thanks to authentic dimensions and accurate details.
Where to stay
There are several chain hotels in downtown Portsmouth, close to most attractions. The Hilton Garden Inn (100 High Street) has a small indoor salt-water pool and Jacuzzi. Our room was super-clean and spacious enough for the four of us to not be on top of each other. It was equipped with a coffee maker, a microwave and a small refrigerator. We all enjoyed the complimentary chocolate-chip cookies in the lobby each evening.
We've also stayed at the Sheraton Portsmouth Harborside Hotel (250 Market Street), with its opulent lobby, friendly staff, clean rooms and lots of amenities, like in-room Starbucks coffee.
If you're looking for a taste of old-world New England, book a room at the historic Wentworth by the Sea, which is located on New Castle Island a few miles from downtown Portsmouth. This grande dame looks elegant but feels casual: Kids can lounge in the lobby in pajamas without a problem. There are indoor and outdoor pools, a full-service spa and a marina. Comfy chairs on the giant porch offer stunning views of the sunset.
Check out other great travel ideas.